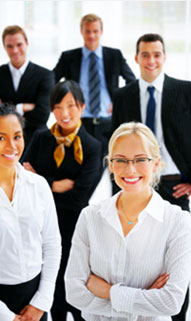 Staffing

Why Contract Talent?
If any of below seems like a challenge you face, contracting talent is a good option.
Business demands solution ASAP, there is no time for a learning curve, you need experienced hands on the job immediately
You want resources with experience in dealing with road blocks your peers have faced in their journey, you dont want to reinvent the wheel
Your team thinks only within the boundaries of your organization, you want someone to look at your need with a fresh pair of eyes based on their experience in supporting your peers with similar needs
IT is not your company's core competence, you want resources with specialized skills to implement the solution most effectivel
Why Contract from eBiz?
You dont want a resume collection, you are interested only in short-listed individuals who can get the job done
You want options such as offsite / offshore consulting as cost saving alternatives
eBiz US is a women owned minority enterprise. You can meet your minority business obligations without putting your program objectives at risk
Skill set we specialize in:
SAP skillsets, including core R/3, BASIS, ABAP, SCM, CRM, SRM, PLM, FSCM, HR, NetWeaver, BW / BI / BObj, Security
Oracle Applications skill set, including E-Business, JDE, PeopleSoft, Siebel, Hyperion
PLM skillsets, including TeamCenter, Windchill
Oracle DBA, SQL DBA, ETL, ELT
Portfolio Management skillset Clarity
MS skillsets, including dot net, SharePoint
Java, GIS
Project, Program Management