Company - Overview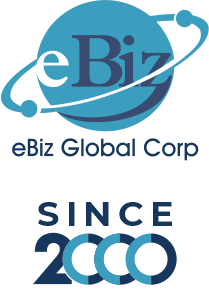 eBiz Global Corp was established in the year 2000 and is a 100% EOU (Export Oriented Unit). For over two decades, eBiz Global has successfully designed and implemented custom web-based solutions to Manufacturing and Retail Distribution customers in the US, Europe and Asia. eBiz specialises in providing IT and Engineering solutions to manage Supply Chain, Quality and eCommerce.
Company - Background
eBiz Global Corp is a part of KR Group of Companies, which was established in the year 1968. KR Group was primarily involved in Textile fibre processing, Finance and Trading for several decades.
The management has always maintained the highest levels of business ethics, financial integrity and quality consciousness. Being aware of the emerging trends and technologies internationally and the enormous business opportunities available in the field of Information Technology, eBiz Global Corp was conceived and incorporated in the year 2000.