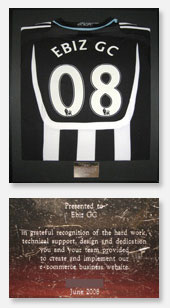 Why eBiz? - Client Testimonials
eBiz Global believes that the best business relationships are based on a simple virtue - Trust. Due to their unshaken faith in us, our clients consider us as their business partners. And we have more than lived up to their expectations. Here is just a sampling of what some of our customers feel about us:
eCommerce Portal created for UK subsidiary of a $16 Billion US Industrial Conglomerate
"Presented to eBiz GC in grateful recognition of the hardwork, technical support, design and dedication you and your team provided to create and implement our e-commerce business website"
- Message embossed on the brass plaque in the framed appreciation memento sent to us
Several Software Projects executed for one of the World's largest Furnishing Accessories Company in USA
"We found eBiz Global Corp very professional and efficient. They not only met our requirements, but also helped us improve our business systems in general. They created software to interact with our ERP, so that we can generate reports and conduct transactions that are not available there. I am pleased with their post implementation support, and have no hesitation to recommend them to any one or any company....".
Supply Chain Solutions for a HongKong Manufacturing Company - supplying products to world's largest sporting goods manufacturers
"Finding a software company that is prepared to take the time to truly understand our business is essential to success of the final outcome, and indeed eBiz did this for us, and we have and will continue to build on the projects to increase our efficiencies. I am happy to share our successful experience and would recommend other Companies to use their Services."

eSourcing Project - executed for a $ 750 Million Poultry Business
"....We would like to mention here about the commitment showed by your team to completely satisfy our requirements in full. We highly appreciate your team for the excellent support given towards successful implementation of the solution."


Web Portal for a UK Company - Web-based Order Procurement and Tracking system
"The software was executed and delivered on time and met our objectives clearly. They were very professional in dealing with us, and would not hesitate to recommend them to any company requiring such an excellent online order procurement/tracking and invoicing/shipment tracking system."
Business Tracking Project - executed for India's Largest Gear Manufacturers
"...We appreciate the professionalism and commitment of eBiz in managing and implementing the project."
LoanTrak Project - eGovernance for the local government
"eBiz Global Corp's team of engineers have worked hard and round the clock to deliver the application... I place on record my heart-felt appreciation for the services and congratulate them on their professional work, which has helped the district administration to streamline the loan monitoring process."